Kitchen Remodeler shows New Kitchen in Charlotte
Here at SFCC Remodeling, we can transform your current kitchen into one that you've been dreaming about for years. Whether you want a new look or you want additional space, we have the experience and the knowledge to create exactly what you want.
From the initial consultation to the final inspection, we'll work directly with you to ensure that not only is every one of your expectations met, they're exceeded. This includes working within your budget, sticking to our estimate, and providing you with the best kitchen remodeling services in Charlotte and the surrounding Charlotte area.
This page focuses on a recent Kitchen Remodeling project we completed in Charlotte.  Our goal was to update the Kitchen while also opening up the space to make it more accessible for entertaining. We pride ourselves on paying attention to detail such as the under cabinet LED lighting with a color wheel and low LED lighting with a dimmer.
Let's walk you through before and during the construction process.  In the next image we draw your attention to the wall and 4×4 walk in pantry that will be removed and opened up. We are referring to where the signs on the walls are.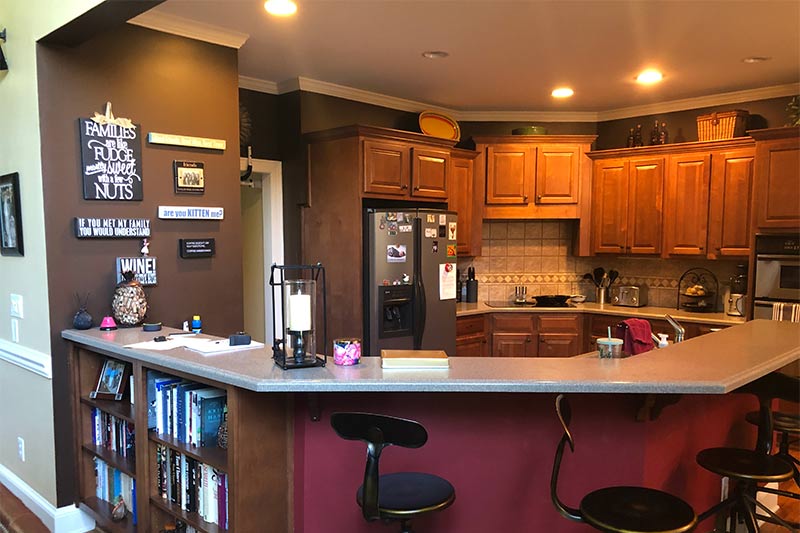 Before kitchen was remodeled
Bench seating will be there on the right hand side. The pantry will be removed where the walls frames and door are. The door to the left of the fridge was moved over by about 3 feet to provide more space.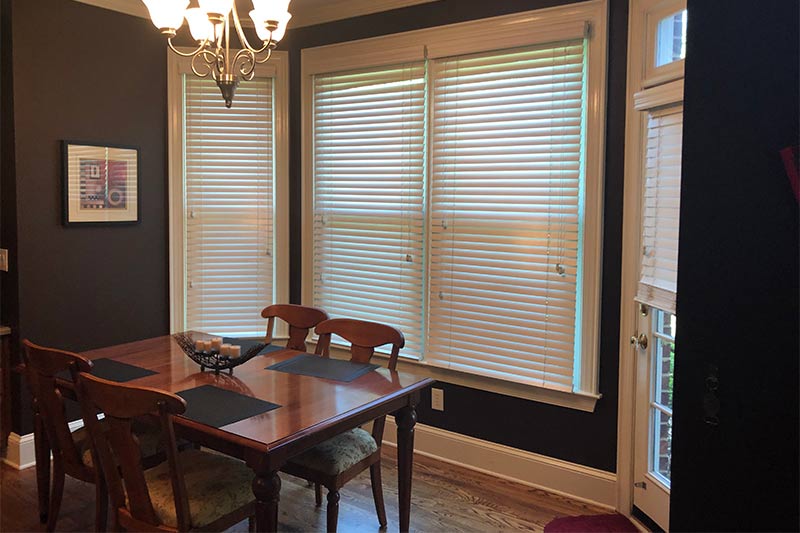 Before new sitting bench on right hand side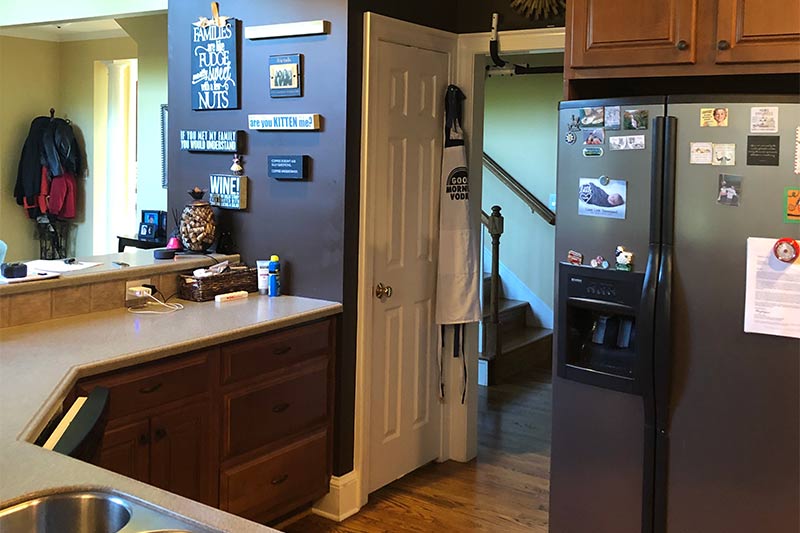 Before pantry removed and wall moved
Now we began our demolition of the kitchen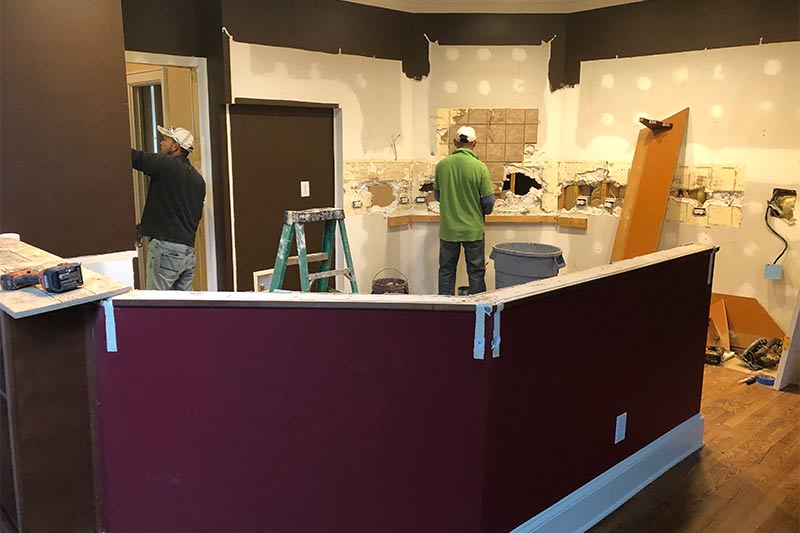 Start of kitchen demo to begin remodel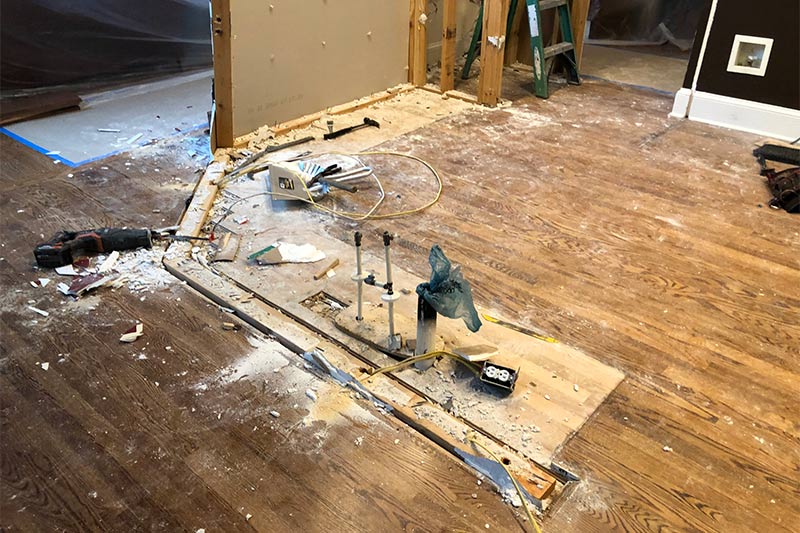 Kitchen demo removal of counters and countertop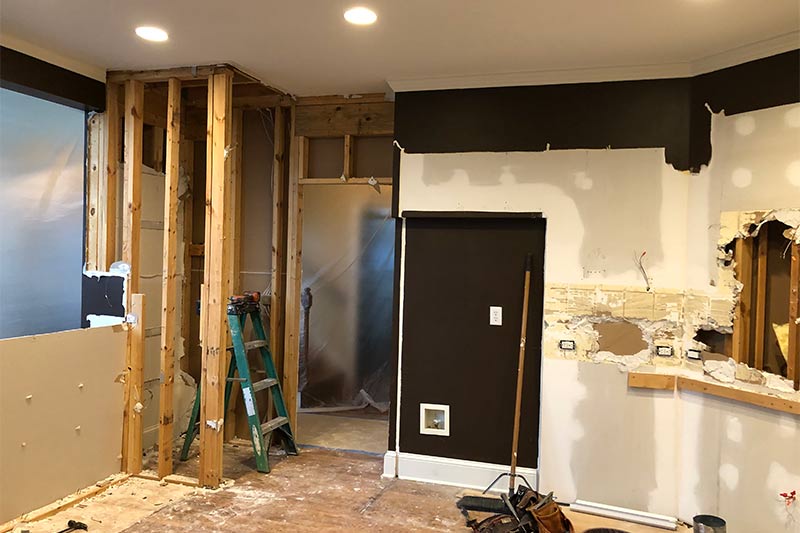 Kitchen demo removal of pantry
Now the room is slowly taking shape. The schematics are on the wall. It may be hard to appreciate the feathering and joining of existing laid floors bringing two rooms into one. We pay attention to detail and this is where we show off our skilled craftsmanship.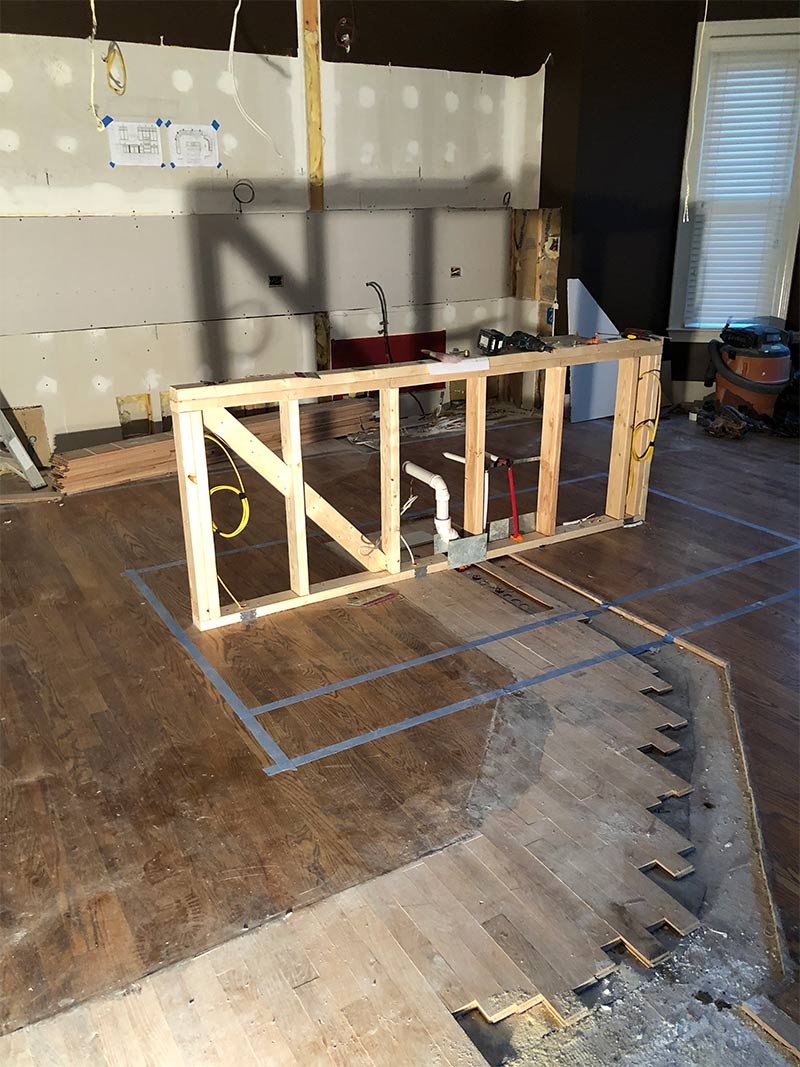 Remodel beginning with floor feathering and joining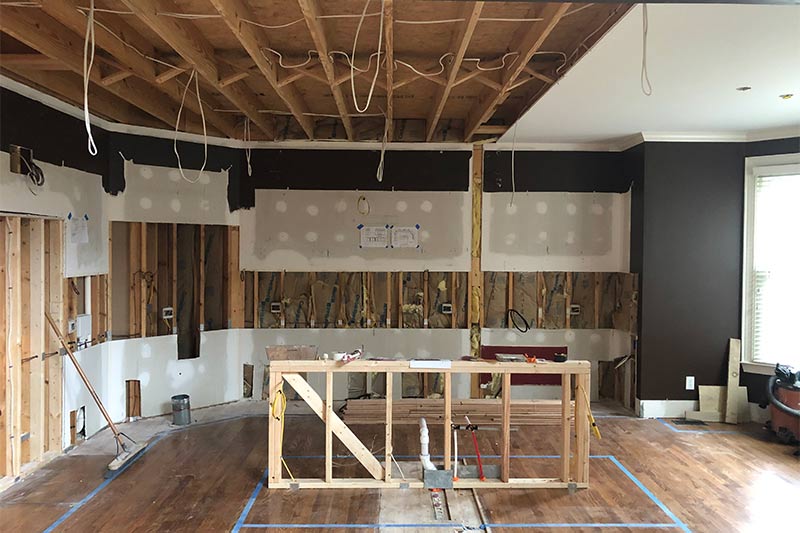 Kitchen Remodel in progress
It is easy to forget how the transition takes us to the finished kitchen as seen next.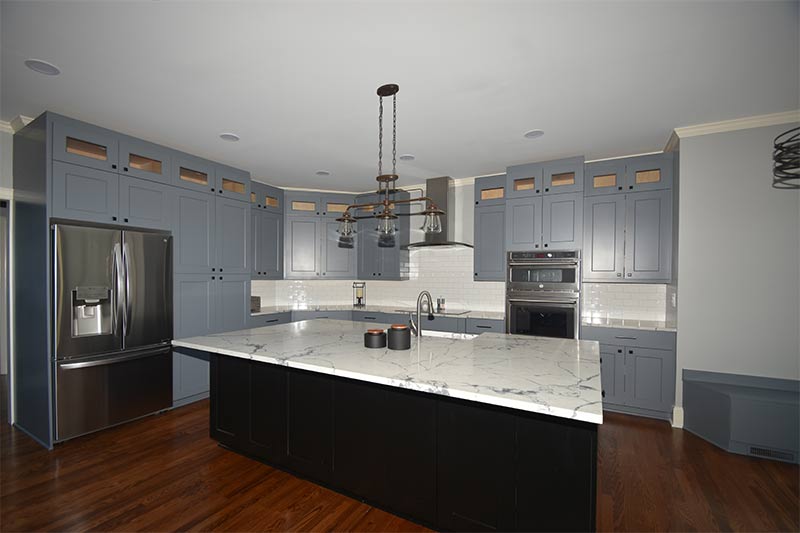 Kitchen Remodeler finishes New Kitchen in Charlotte
Here we zoom in on some details such as the contemporary range hood, veining quartz countertop and cook top bump out.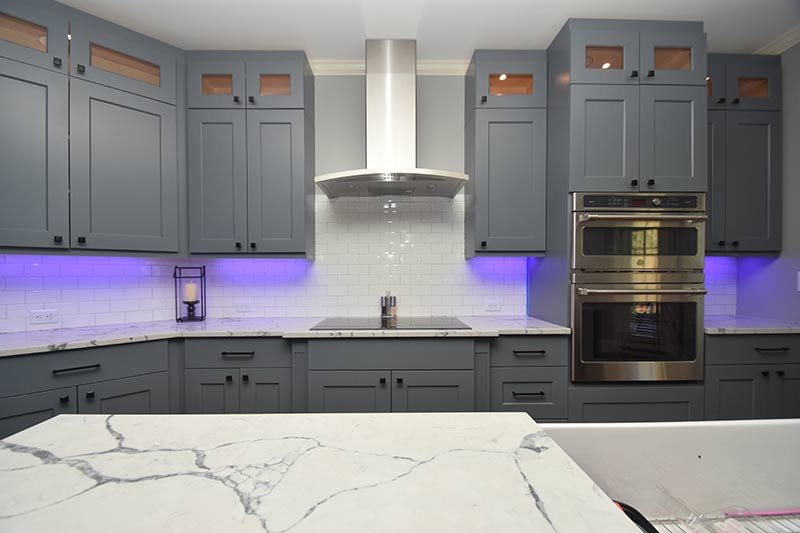 Contemporary range hood, veining countertop and cook top bump out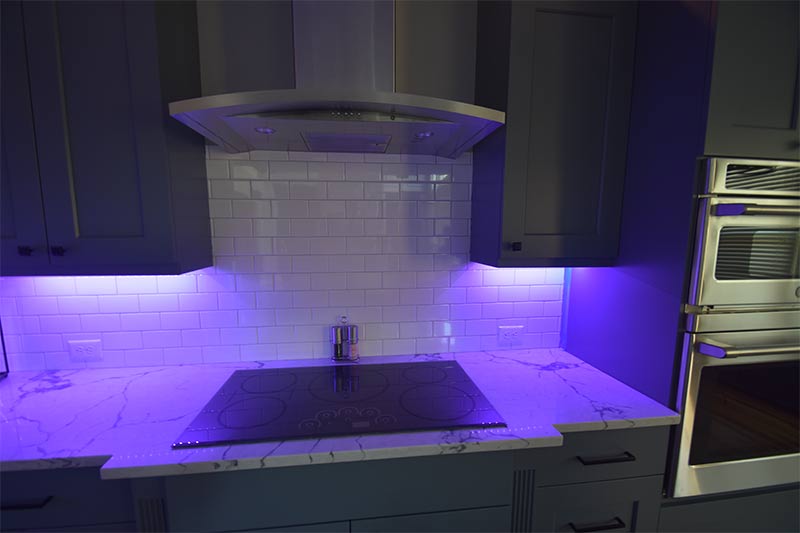 Close up of cooktop bump out
Now taking some steps out of the room allow us to see the sitting bench too.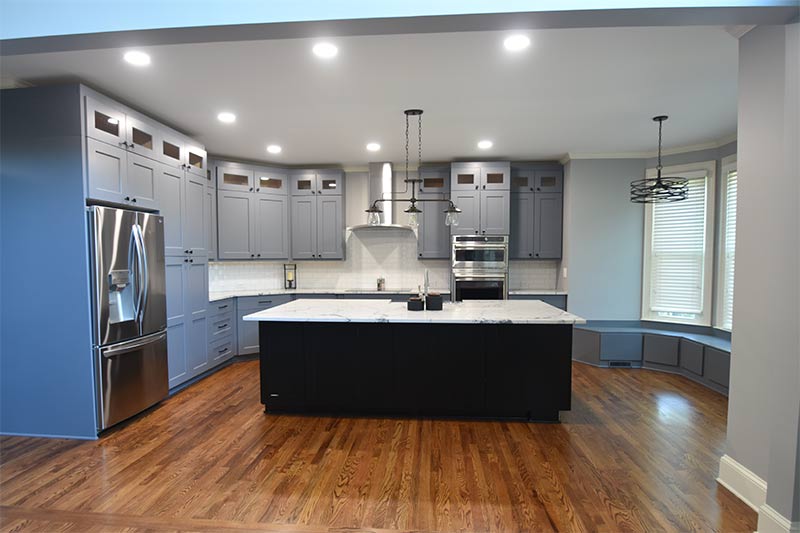 Finished kitchen remodel with sitting bench
As part of our Home Renovations service, we also provided some work in the living room. This was a blank wall and we put natural stone and a cedar mantle up.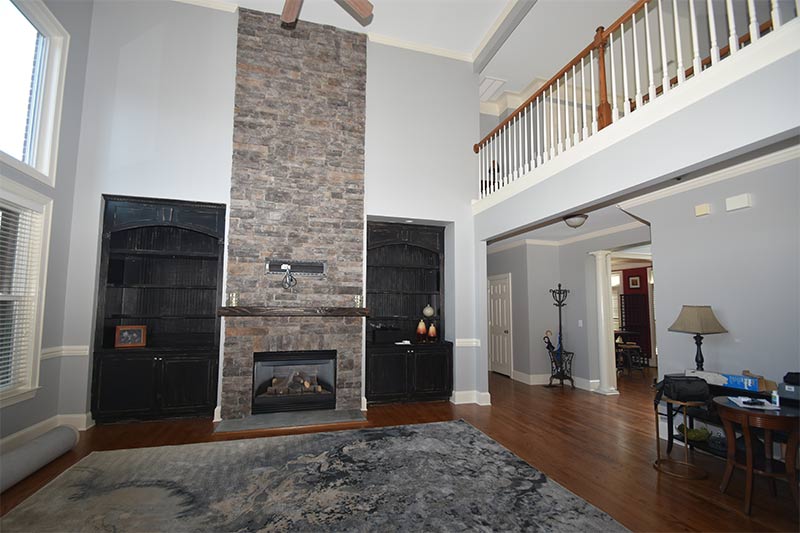 Living room with natural stone and cedar mantle
Quality Work and Superior Customer Service With Every Job
When we complete a job, we never take shortcuts to save time or money. You can feel confident knowing that you will always receive the premium workmanship for your money. We always use quality products, and we always get the job completed right. That's our guarantee.
Contact SFCC Remodeling today to become your premier Kitchen Remodeling and Home Remodeling Contractor, where we turn your dreams and vision to reality.